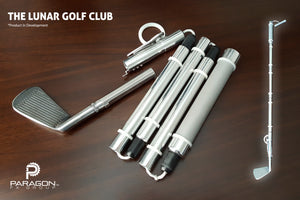 Paragon FX Group
Apollo 14 / Contingency Soil Sampler (Lunar Golf Club)
Coming Soon
This item is currently in development. Please join our interest list for updates and release information:
or Sign In To Check Status
You are now signed up for the interest list on this item and our general newsletter. Please check your inbox to receive updates and release information. Thank you!
Thank you! We will update you when this item is available for order.
Thank you! We will update you when this item is available for order.
In addition to being the first American in space, Alan Shepard became the 5th man to walk on the moon on February 6, 1971.

He's also afforded the accolade of being the only astronaut to play golf outside the confines of his home planet. This feat was made possible by a retrofitted 6 iron club that could be attached to a collapsible contingency sample return device. (A lunar soil collector)

After assembly, Shepard hit 2 golf balls from the surface of the moon after a total of 4 swings. The first two were misses and the third was a shank...the fourth; however, caught the ball flush as Shepard proclaimed his shot went "miles and miles" to the delight of the TV audience.

Paragon FX Group is proud to commemorate the 50th anniversary of the Apollo14 launch by offering this limited edition replica of, The Lunar Golf Club.

Manufactured in metal and Delrin this museum quality replica behaves exactly like the original. A simple pull of a polished rod, brings all five sections of the collection device together. The club head can then be removed or attached by way of a quick disconnect. A truly fascinating piece of space gadgetry!

*Prototype shown, some details subject to change
Be sure and join our interest list for this item. Just click the black bar above!

See our FAQ

for a

n explanation of our interest list and reserve period.

Please note: This item can

not

 be shipped outside of the United States. 
---